CellMLTextView plugin
The CellMLTextView plugin can be used to edit CellML files using a text editor that supports the CellML Text format. If you open a CellML file, it will look something like: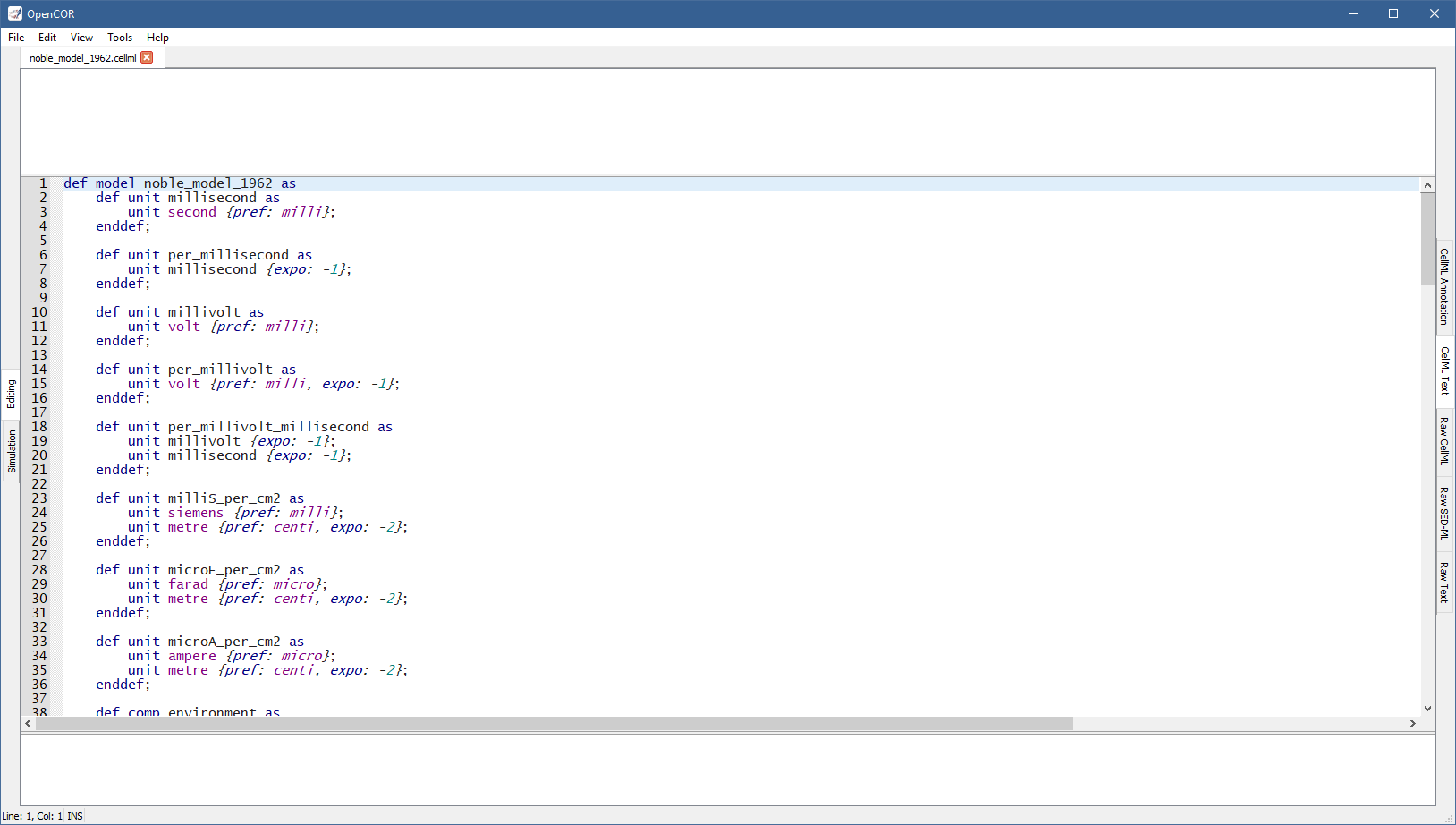 Apart from using a specific format, the view has the same features as the Raw CellML view with one exception: currently, CellML Validation only validates against the CellML Text format.
Compatibility with COR
People familiar with COR will find that the CellML Text format is compatible with the COR format, although it supports additional features:
The

import

element (i.e. support for CellML 1.1);
The

degree

qualifier for the

diff

element (i.e. support for higher-order derivatives);
The

notanumber

and

infinity

constants; and
An unlimited number of group types (in COR, a group can only specify one

encapsulation

and/or one

containment

type).
However, note that the COR format has some limitations that are also present in the CellML Text format:
The

reaction

element is not supported (its use is not only discouraged, but it has also been removed from CellML 2.0, the next version of CellML);
A

piecewise

statement can only be used as part of a top-level

eq

statement, and nested

piecewise

statements are not allowed (the latter is not a limitation per se since an equation can always be rewritten without the need for nested

piecewise

statements; more importantly, it is easier to read and maintain an equation that uses only one top-level

piecewise

statement); and
A

component

element may contain a set of

math

elements, but its rendering is such that when serialised back, only one

math

element will remain, with all the equations in that one and unique

math

element.
CellML Text format
The CellML Text format offers, for the large part, a one-to-one mapping to the CellML format with the view of making it easier to create and edit CellML files.
CLI support
The CellMLTextView plugin relies on the CellML Text format. CLI support has therefore been added to it so that a CellML file can, from the command line, be imported to the CellML Text format, and back.
For example, to import models/van_der_pol_model_1928.cellml to the CellML Text format, we would do the following:
$ ./OpenCOR -c CellMLTextView::import models/van_der_pol_model_1928.cellml
def model van_der_pol_model_1928 as
    def comp main as
        def unit per_second as
            unit second {expo: -1};
        enddef;

        var time: second;
        var x: dimensionless {init: -2};
        var y: dimensionless {init: 0};
        var epsilon: dimensionless {init: 1};

        ode(x, time) = y*1{per_second};
        ode(y, time) = (epsilon*(1{dimensionless}-sqr(x))*y-x)*1{per_second};
    enddef;
enddef;

Similarly, and assuming the above import has been saved to a file named van_der_pol_model_1928.txt, we could get our original CellML file by doing the following:
$ ./OpenCOR -c CellMLTextView::export van_der_pol_model_1928.txt > van_der_pol_model_1928.cellml

For precaution, the new CellML file relies on CellML 1.1, as confirmed by diff:
$ diff models/van_der_pol_model_1928.cellml van_der_pol_model_1928.cellml
2c2
< <model name="van_der_pol_model_1928" xmlns="http://www.cellml.org/cellml/1.0#" xmlns:cellml="http://www.cellml.org/cellml/1.0#">
---
> <model name="van_der_pol_model_1928" xmlns="http://www.cellml.org/cellml/1.1#" xmlns:cellml="http://www.cellml.org/cellml/1.1#">